Get Organized With These Simple Basement Storage Ideas
Whatever belongings you've bestowed upon your basement, be it next season's wardrobe, the Christmas tree and its four boxes of assorted ornamentation, or your high school trophies and yearbooks, there's a reason you're keeping these items. We hope, anyway.
Basements are wonderful places to store sentimental and seasonal items, but they are also places where stored objects can be easily ruined, especially in the case of basement flooding. Here are a few measures we encourage you to take to keep your beloved "stuff" safe, organized, and out of the way.
Store at least a foot off the floor.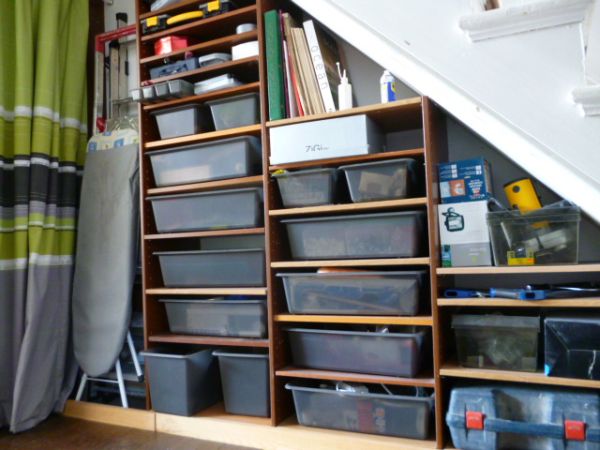 Source: decoist.com
There are two types of basements: those that have flooded, and those that have yet to flood. Keep everything dry by using a wall of DIY shelves, a bookshelf, cabinets, or a wardrobe. A nice idea for keeping a wall of stacked bins visually appealing is to hang a curtain in front so that it's easy to access the items, but they're not in plain view and you're not tripping over them when the hairdryer sends you down to reset the bathroom fuse, again.
Store in air-tight, hard plastic containers.
Source: organizediy.com
Even though you may not have made formal acquaintance with any of the pests that are likely to stop by your basement, whether it's finished or unfinished, keeping your cherished childhood collections in cardboard boxes and paper or plastic bags are setting them up for ruin. A desiccant packet or two to absorb moisture in the bins won't be a bad idea either.
Label. Label everything.
Source: iheartorganizing.com
Go label crazy. You'll thank yourself later. Incessant labeling does more than just tell you what's inside of each storage bin. It tells you where to store it. The kids' art supplies? Keep them accessible on a shelf they can reach without causing (even more of) a creative avalanche. Your husband's beloved short shorts or wife's treasured 80's workout leotards? Those will be almost nonexistent on that very, very top shelf in the far corner! See where we're headed here?
If you're looking to get even more imaginative with your organization & storage ideas, check out our Creative Basement Storage Ideas Board on Pinterest to turn your basement into a functional and appealing space!